It is no doubt a strange story – how one US prisoner's penchant for drawing golf courses led to him walking free.
Despite having never set foot on a course himself, Valentino Dixon drew more than 100 golf pictures while in jail in New York.
His prolific output received national media coverage, which in turn brought renewed focus on his murder conviction.
This attention prompted advocates to investigate his case and they soon uncovered flawed evidence.
He was freed on Wednesday after another man confessed to the crime. "It's the greatest feeling in the world," Mr Dixon told reporters.
It is a surprising chain of events, but there are plenty of other examples of prisoners being freed in unusual circumstances.
Here are some notable cases…
1) Lookalike confusion
Last year, Richard Anthony Jones was serving his 17th year in a US prison for a robbery he did not commit.
He had made repeated efforts to appeal against his 19-year conviction but to no avail. Then he heard about a man called Ricky.
Mr Jones had been told by fellow inmates that he looked identical to this mysterious character.
Mr Jones had been convicted mostly on eyewitness accounts and there was no physical evidence linking him to the crime.
After the lookalike surfaced, a judge ruled there was no longer any evidence to keep Mr Jones in jail.
As for Ricky, the statute of limitations on the 1999 crime had passed so he could not be prosecuted.
2) A living labrador
Joshua Horner, 42, was freed from a 50-year jail term earlier this month following the discovery of a labrador dog he had allegedly killed.
He was convicted last year for alleged child sexual abuse, and the complainant said Mr Horner had shot the dog to in order to deter her from reporting his crimes.
But advocates from the Oregon Innocence Project, who were reviewing his case, found the dog living with new owners.
"Lucy the dog was not shot. Lucy the dog is alive and well," the district attorney's office said in its motion to dismiss the case.
Mr Horner was then able to walk free alongside his wife Kelli after it was confirmed there would be no second trial.
3) A bite mark breakthrough
Gerard Richardson, from New Jersey, was accused of murdering a young woman in 1994. The primary piece of evidence in the case was a bite mark left on the victim's back.
The prosecution argued that it was left by Mr Richardson, and he was convicted and handed a 30-year sentence.
But the use of bite mark evidence is controversial. Lawyers and forensic experts have argued it is an imprecise science that is very different to matching fingerprints.
In 2012, advocates became involved in his case and called for new DNA tests to be carried out. The tests found that DNA from the bite mark did not match Mr Richardson's.
He was exonerated in December 2013, and the judge told his family that it was difficult to imagine what they had been through.
4) Superstar influence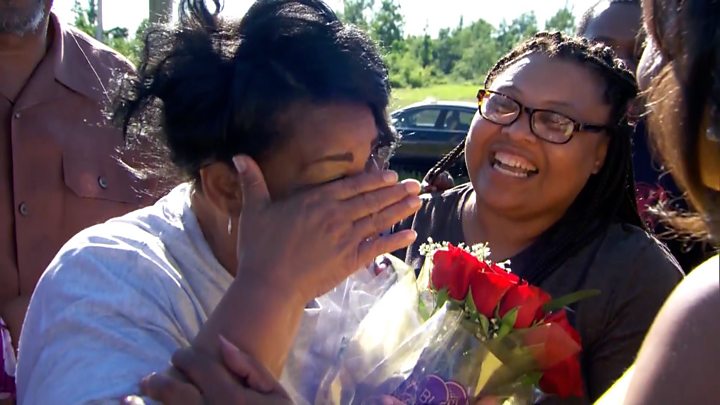 Alice Johnson was sentenced to life in jail, with no chance of parole, in 1997 on a non-violent drug charge.
The 63-year-old grandmother had served more than 20 years in jail when Kim Kardashian West began lobbying for her release.
The star said she first became aware of Ms Johnson's situation when she saw a video about her imprisonment on social media.
She joined a long-running campaign for Ms Johnson's freedom, which culminated in a meeting with President Donald Trump in May in which she discussed a potential pardon.
In June, Mr Trump granted her release resulting in an emotional family reunion outside the Alabama prison where she had been held.
5) A major mistake
James Rynerson was released from jail in Colorado earlier this year after staff mistook him for another inmate.
The 38-year-old was awaiting prosecution on a number of charges when he was let out – and he kept quiet about the mix up.
He arrived home to his startled wife who told him he needed to turn himself in and drove him back to prison.
"Fortunately, his wife convinced him to return… before any citizens were harmed," a police officer said.
All in all, Mr Rynerson tasted less than two hours of freedom.